THE BROCKET HALL SETTEE

English, 1773
Height: 3 ft 7 ¼ in; 110 cm
Height of seat: 21 ½ in; 54.5 cm
Width: 8 ft 1 in; 246.5 cm
Depth: 2 ft 10 in; 86.5 cm

REF No. 4458231




Price Range: £100,000.00 +

Enquire
A George III giltwood settee by Thomas Chippendale.
Note: The settee has been re-gilded.
LORD MELBOURNE'S CHIPPENDALE COMMISSIONS FOR BROCKET HALL, HERTFORDSHIRE, AND MELBOURNE HOUSE, LONDON, 1772–1775
The Brocket Hall Saloon Suite by Thomas Chippendale.
The saloon suite commissioned by Lord Melbourne in 1773 for Brocket Hall, Hertfordshire, England, comprising twelve armchairs, twelve side chairs and four settees, was the largest suite of seat furniture ever made by Chippendale.
Lord Melbourne inherited a fortune from his father in 1768 and set out to lavishly furnish both his London home, Melbourne House (now Albany), and his country seat of Brocket Hall. His wife, Lady Melbourne, played an important role in choosing James Paine as the architect and Chippendale to provide the furnishings for both houses.
Paine, who was the only architect to subscribe to Chippendale's 1754 Director, played some part in the design of the suite. The relationship between the two men appears to have been rather volatile: Chippendale submitted designs to Lord Melbourne without the full consent of the architect, prompting Paine to reproach Chippendale in a letter to his patron.
Despite these upsets, Paine must have valued Chippendale's furniture, as he illustrated some of the furnishings for the saloon at Brocket Hall in his publication Noblemen and Gentlemen's Houses of 1783. Paine's publication gives us a glimpse of what the furnishings of the saloon would have looked like. One settee was placed at either end of the room, each flanked by torchères, also supplied by Chippendale. The other two settees would have been placed at either side of the fireplace, with the chairs distributed beneath the pier mirrors and along the remaining wall space.
The suite passed down by descent until the sale of Brocket Hall in 1922 to Sir Charles Nall-Cain, Bart. Sir Charles also bought some important furniture including the saloon suite in the furniture sale in 1923, thus ensuring that the suite stayed together and with the house. When Country Life photographed Brocket Hall in 1925, not only was the saloon suite complete, but also its original crimson floral damask was surprisingly still intact.
The suite was eventually dispersed. Two settees and four armchairs were sold in 1994; the other two settees and four more armchairs were sold in 1995; and the four remaining armchairs were sold in 1999.
A closely related suite was supplied by Chippendale to the Duke of Gloucester for Clarence House in London.
Literature: Christopher Gilbert, The Life and Work of Thomas Chippendale, 1978, vol. II, p. 109.
Illustrated:
'Brocket Hall III, Hertfordshire – The Seat of Sir Charles Nall-Cain, Bt.', Country Life, 18 July 1923, pp. 96–8.
H. Avray Tipping, English Homes, Period VI, vol. I, 'Late Georgian, 1760–1820', 1926, pp. 19–21, figs. 30–33.
---

Provenance

---

Sir Penistone Lamb, 1st Viscount Melbourne, Brocket Hall, Hertfordshire, England.
Admiral Lord Walter Kerr, Brocket Hall, until 1923.
Sir Charles Nall-Cain, Bart., 1st Lord Brocket, Brocket Hall, until 1995.
Private collection, England.
---
YOU HAVE RECENTLY VIEWED ITEMS
---
---
Make an enquiry
---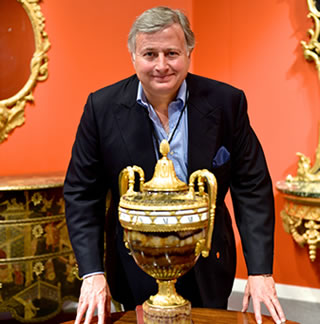 CAN WE HELP YOU?
+44 (0)20 7493 2341
ADVICE@RONALDPHILLIPS.CO.UK