A HIGHLY IMPORTANT GEORGE II BUREAU CABINET ATTRIBUTED TO GILES GRENDEY

English, circa 1745
Height 9 ft 2 in; 279.5 cm
Width: 4 ft ½ in; 123 cm
Depth: 2 ft 4 in; 71 cm

REF No. 4477241




Price Range: £100,000.00 +

Enquire
Note: The cabinet retains the original giltwood eagle cresting and finials and all the original ornate brass handles. The mercury silvered and bevelled mirror plates are period replacements. The japanning has been retouched in some areas. The raised decoration is virtually all original.
This japanned cabinet is one of the finest examples known to exist. The dark green colour is extremely rare and is only found on a handful of pieces, including the pair to this cabinet, formerly in the collection of the Marques de Rivella in Madrid and now in a private collection in California; a suite of four mirror girandoles, now in a private collection in Germany; a single mirror with Mackinnon Fine Furniture; and 19 side chairs, recorded at Chequers, Buckinghamshire, at Ormeley Lodge, Surrey, and at the Neapolitan court of Charles III at Capodimonte in Italy.
The attribution of the cabinet to Grendey is on stylistic grounds. The most striking features are the shape of the door panels, which is typical of Grendey's work, the broken pediment with characteristic Grendey carved eagle cresting and the ornate brass handles. All of these features appear on documented pieces from the Grendey workshop.
The only difference from recorded Grendey pieces is the unusual bombe shape of the lower section of the cabinet, which is reminiscent of cabinets by Martin Schnell of Dresden, and this Dresden connection provides a vital clue to the cabinet's intended destination. It was not made for the English market, but the rich, indeed almost over-rich decoration to the japanning, and the unusual shape link it to pieces for the export market.
Grendey supplied a great deal of furniture for export, but this is one of the first of his pieces for the German market to come to light.
Giles Grendey (c. 1693-1780) is one of the best-known cabinet-makers of his period, largely because he occasionally labelled his furniture, unlike most English cabinet-makers of the time. After serving a seven-year apprenticeship he became freeman in 1716 at the age of 23. By 1726 he was taking his own apprentices at his workshops at Aylesbury House in Clerkenwell, London. Grendey lived to the advanced age of 87, having retired to the country some years before.
We know very little about Grendey's clients apart from commissions to Richard and Henry Hoare of Barn Elms and Stourhead, Wiltshire and furniture supplied to the 1st Earl of Radnor for Longford Castle, also in Wiltshire. Only the discovery of a vast suite of japanned furniture and the existence of early newspaper articles recording a fire at his workshop provide any indication of how impressive Grendey's output must have been.
The fire is described as having destroyed a shipment valued at the enormous sum of £1000, which was due to leave the following morning: one chair alone, intended for a German prince, was valued at more than 500 guineas.
Literature: Connoisseur magazine, June 1980, no page, trade advertisement by Mallett & Son Ltd. London.
Geoffrey Beard and Christopher Gilbert, The Dictionary of English Furniture Makers 1660-1840, 1986, pp. 372-3.
Christopher Gilbert, A Pictorial Dictionary of Marked London Furniture 1700-1840, 1996, pp. 31-2; 238-49.
Carlton Hobbs, Catalogue Number Six, New York, 2009, pp. 46-51.
---

Provenance

---

Private collection, Paris, France.
Private collection, Belgium.
---
YOU HAVE RECENTLY VIEWED ITEMS
---
---
Make an enquiry
---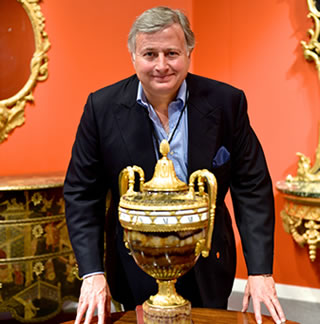 CAN WE HELP YOU?
+44 (0)20 7493 2341
ADVICE@RONALDPHILLIPS.CO.UK